The Read.Inquire.Write. disciplinary literacy tools structure and support a process of inquiry and writing within our 5-day investigations. These tools are designed to engage all students in analytical reading and argument writing, while developing disciplinary language and thinking in history and social sciences. The disciplinary literacy tools are embedded in our investigations and adapted to each type of argument writing, but can be used independently with other topics and materials to support inquiry and writing.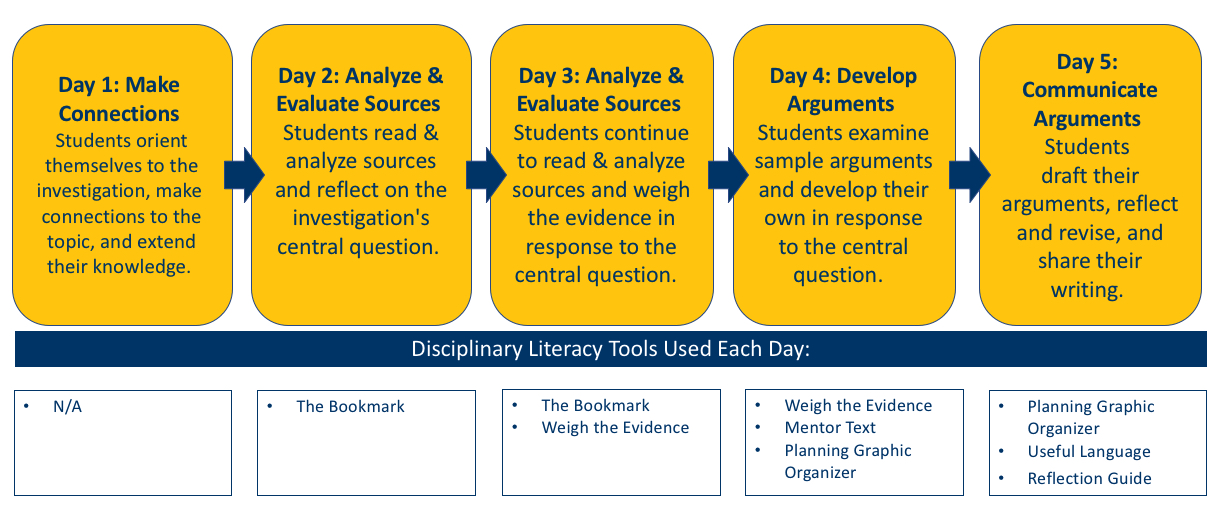 Six tools apprentice students into disciplinary ways of thinking, reading, and writing as they participate in the inquiry process. These tools are embedded in the student packet and slides for each investigation. A template of each tool is included in the links below.
---
The Bookmark
Understanding sources is key to developing evidence-based arguments in social studies. The Bookmark tool is designed to support students as they read, analyze and annotate sources. The Bookmark focuses students on the information that is most relevant to answering the compelling question for each investigation, promoting their comprehension and note-taking to capture their thinking about how evidence from a source can be used to support a claim and how reliable a source is. Later, as students weigh evidence across sources, their annotations help them identify relevant evidence for different possible claims. As they plan and compose their arguments, the annotations help them quote from the sources and reason about how the evidence they use supports the claims they make, and about the reliability of the source for responding to the compelling question.
Learn more about using The Bookmark to support English Learners.
---
Weigh the Evidence
The Weigh the Evidence tool supports thinking across sources and developing evidence-based conclusions through discussion of historical/social issues and sources. Weigh the Evidence discussions support students in sorting through what they have read and figuring out what they will write, acting as a bridge between reading and writing. Weigh the Evidence discussions focus on the central question and the sources with the goal of identifying compelling and reliable evidence. Students talk through possible claims that the evidence supports and reason about how the evidence supports the claims. This talk is the basis for developing a strong argument, as students corroborate evidence and process ideas together through discussion. The Weigh the Evidence tool is intended to support discussions and enable students and/or teachers to track the ideas in the discussion, creating a public record that students can reference when they decide on the arguments they will make. This tool is not intended for silent, individual work time.
Learn more about using Weigh the Evidence to support English Learners. 
---
Mentor Texts
Mentor Texts offer students examples that are tailored to the particular audience and purpose for writing embedded in each investigation. They address different topics than the investigation, so they don't serve as templates for writing. Instead, mentor texts model ways arguments can be constructed to accomplish the goals students will have when writing the different kinds of arguments during each investigation.
Learn more about using Mentor Texts to support English Learners. 
---
Useful Language
Part of apprenticing students into disciplinary thinking is supporting their understanding and use of language. Useful Language lists guide students in noticing the ways disciplinary language is used in the mentor texts for each investigation, and offer models for their own writing. A key feature of the Useful Language tool is that language choices are offered to support writing each argument component, helping students understand that there is more than one way to make a claim, present evidence and reasoning, and respond to counterarguments. Language choices present the student's thinking, and the Useful Language tool reminds them about and supports them in presenting the important thinking moves that make an argument strong.
Learn more about using the Useful Language tool to support English Learners. 
---
Planning Graphic Organizer
As they plan their writing, historians and social scientists consider how to convince an audience of their argument using evidence and reasoning. The Planning Graphic Organizer supports students as they move from talking about their ideas to making choices, organizing their thinking, and preparing the components of written argument. The Planning Graphic Organizer tool reminds students of the components an argument needs to include in order to present and communicate the ideas they have developed. Each of the argument tasks supported by Read.Inquire.Write. has a different overall organization related to the particular goals of that task, but all involve claims, evidence, and reasoning. The different forms of the Planning Graphic Organizer provide a structure for argument writing and a place to develop notes about what the student will write for each component of the argument. It serves as a support when students move ahead to write their full drafts, and should be treated as a place to take brief notes rather than as a place to write rough drafts or complete sentences. Using prompting questions, the Planning Graphic Organizer helps students to lay out key aspects of argument, including their claims, evidence, reasoning, and response to counterarguments.
Learn more about using the Planning Graphic Organizer to support English Learners. 
---
Reflection Guide
Students can run out of steam while writing and lose focus on their goals or lack goals as they write. Using the Reflection Guide is one way to remind students of their purpose in writing and what they should include in their writing. The Reflection Guide can be used to help students monitor their progress and re-focus their work, and it coaches students on key aspects of argument writing. In addition, the Reflection Guide can be used to prompt students to reflect on and internalize the key components of argument writing and identify ways to improve their writing-- whether in revising their current argument or setting goals for what they might improve in their next argument.
Learn more about using the Reflection Guide to support English Learners.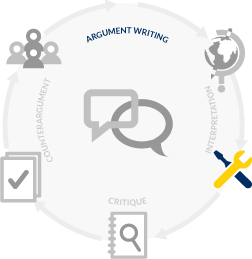 The tools themselves really do set up students to do this work.  They don't just simply read something and then write something; they have to incrementally go through a step-by-step process that builds those pieces.
-Jared Aumen, Middle School Social Studies Teacher, Ann Arbor, MI
---