Inquiry teaching calls for students to read a range of complex sources, engage in classroom interaction and discussion, and write arguments with claims supported by evidence and reasoning. These are challenging tasks for many middle school students. Read.Inquire.Write. has designed the investigations to support students who are learning English or are behind their grade level in reading and writing.
Research shows that second language learning is supported when students have:
Opportunities for meaningful interaction about what they are learning
Support for close reading of complex texts, focused on language and meaning
Explicit guidance in writing, including support for achieving the purposes of each component of the genre to be written
Clear expectations for what is to be done and regular classroom routines that help them meet those expectations
The investigations repeatedly engage students in interaction in pairs and small groups, and then in whole class discussion, to enable them to reason about what they are learning and attend to other students' reasoning. They are supported in close reading where specific language is brought into focus to enable them to respond to the compelling question for each investigation. They receive robust support for writing, including attention to the articulation of claim and introduction of evidence and reasoning, as well as guidance about language choices they can make to achieve the disciplinary goals. Throughout, expectations are made clear as the compelling question for each investigation and the writing assignment are a focus of attention.
Teachers are guided throughout the investigations to use routines and practices that engage students in interaction, focus students on language and meaning, and draw attention to disciplinary ways of making claims and presenting and reasoning about evidence.
The Disciplinary Literacy tools can support English Learners in specific ways as they engage in close reading, reasoning about evidence, and argument writing:
---
Supporting Research
August, D., & Shanahan, T. (2008). Developing reading and writing in second-language learners. New York: Routledge.
Ellis, N., & Larsen-Freeman, D. (2006). Language emergence: Implications for applied linguistics–Introduction to the special issue. Applied Linguistics, 27(4), 558-589.
Gibbons, P. (2006). Bridging discourses in the ESL classroom: Students, teachers and researchers. London: Continuum.
Schleppegrell, M. J. (2004). The Language of Schooling: A functional linguistics perspective. Mahwah, NJ: Lawrence Erlbaum.
Schleppegrell, M. J. and Catherine L. O'Hallaron. (2011). Teaching academic language in L2 secondary settings. Annual Review of Applied Linguistics, 31, 3-18.
Turkan, S., de Oliveira, L. C., Lee, O., & Phelps, G. (2014). Proposing a Knowledge Base for Teaching Academic Content to English Language Learners: Disciplinary Linguistic Knowledge. Teachers College Record, 116, 1-30.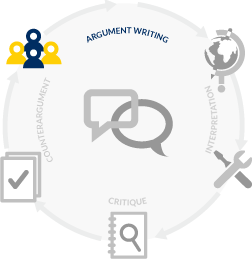 ---