The culminating task for each investigation is the argument students write to respond to the central question or to critique someone else's argument about the central question. Whether writing an e-mail to National Geographic about how best to represent the modern Middle East in their classroom maps, writing a formal letter to a national news organization critiquing their explanation of child labor in Nepal, or writing to the National Park Service about which cause of the Trail of Tears should be represented in park signs at its historic site, students write with an authentic purpose that prompts them to connect past and present for a contemporary audience. 
One series of investigations prepares students to make an argument in support of an interpretation, a second sequence focuses on critiquing arguments, and a third sequence focuses on counterargument. Across all tasks, students write complex claims, integrate relevant and substantive evidence, and explain their reasoning about how the evidence supports the claim and why that evidence is reliable given the argument. In the Counterargument tasks, students also recognize a different interpretation and either critique it or reconcile contrasting perspectives. For each investigation, we provide rubrics to assess students' performance. The rubrics identify four levels of development (Beginning, Developing, Proficient, and Advanced) for each component of the argument (Claim, Evidence, Reasoning, Counterargument).
In the Assessing Writing sections of this site, we provide examples of student writing at different levels of performance in establishing claims, evidence, and reasoning for each investigation. We annotate student writing to highlight their disciplinary thinking and work. Essays use pseudonyms and identify students as English learners or bilingual writers where applicable (English learner status means the student has been designated as such through the district's assessment process. Bilingual writer means the student reports speaking a language other than English at home.). For each essay, a rubric highlights the level of assessed performance on each aspect of a student's argument.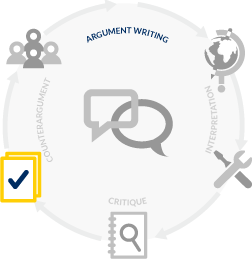 I get a thrill out of seeing the essays that students are writing by the end of middle school.
-Jared Aumen, Middle School Social Studies Teacher, Ann Arbor, MI
---